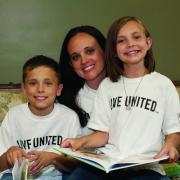 MSA United Way's Dolly Parton's Imagination Library is a book gifting program that mails a brand new, age-appropriate book to enrolled children every month from birth until five years of age, creating a home library of up to 60 books and instilling a love of books and reading from an early age.
The program is funded locally by individual donations from parents, other community members and corporate gifts. A gift of only $25 sponsors a child for one year.
The Imagination Library promotes early childhood education and fosters parent-child interaction - both of which are fundamental ingredients to future educational success. Research has shown that children who participate in the program gain the fundamental skills that prepare them for school.
Since the program began in 2009, more than 260,000 books have been mailed to children in our community.